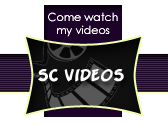 Hello to all of my admirers, welcome to my website.
If you are craving a powerful beauty with a body built for pleasure and a fierce and shrewd intellect, you are definitely in the right place. I love showing off my mature Voluptuous, all natural, hairy body in and out of sexy lingerie and clothes. Yet even as I stand naked before the world, I have secrets and desires that I can not wait to share with you. So come experience all of my unique sensuality and leave your expectations at the door...
It's a thrill for me to share with you, photo layouts and videos of all my favorite fetishes and XXX fun. Have a good time and let me know what you think, I love to hear from my fans.
Jennifer ( @ )( @ )